Life science: convergence of nano and biotechnology
Technology in life science is rapidly emerging. Thanks to the convergence of nanotechnology, biotechnology, ICT and cognitive sciences, many new technologies are in progress with a high potential impact on future health and health care system. A short list of the technologies of the future:
Early diagnosis
Healthcare IT
Nanomedicine
Smart implants
Non invasive surgery
System biology, chinese medicine
smart implants
sensing & drug delivery
adaptive body correction

non invasive surgery
and minimal invasive surgery
or treatment

healthcare IT
telemonitoring, right
information right time

early diagnosis
nanosensors, lab-on-chip
single molecule detection

system biology
human modeling, physiology, biomechanics, biochemistry

nanomedicine
nanoparticles for
imaging & treatment
For more information download the Healthcare booklet: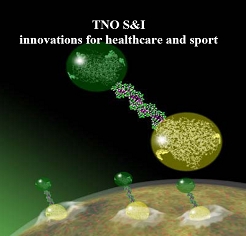 Innovations for healthcare and sport




Non Invasive Brain Surgery with HIFU
High intensity focused ultrasound is new and promising technology for non invasive surgery. Especially of interest for brain surgery but also applicable for tissue treatment and repair at other locations. It uses a focused array of ultrasound to generate a localized (1-3 mm) energy spot resulting in either cell lysion (high energy, tumors), tissue activation or local drug delivery (low energy). It is a 100% non invasive technique under MRI thermal imaging for guidance.
| | | |
| --- | --- | --- |
| | | |
| | | |